Fake News & Web Sites
We often encounter news items and web sites that lie or mislead with their stories about climate change. We will list the more egregious ones here with a brief note as to why we think they are deceptive. As always, if you have an issue with an entry on this page (or any page) please email editor@climatechange.tips. Include as much detail as you can.
Groups Exposing the Fakes
Climate Investigations Center The Climate Investigations Center (CIC) was established in 2014 to monitor the individuals, corporations, trade associations, political organizations and front groups who work to delay the implementation of sound energy and environmental policies that are necessary in the face of ongoing climate crisis.
History of Lies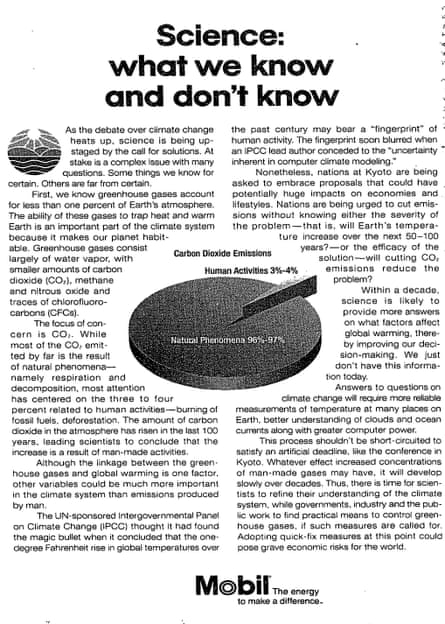 The forgotten oil ads that told us climate change was nothing Instead of warning the public about global heating or taking action, fossil fuel companies stayed silent as long as they could. In the late 1980s, however, the world woke up to the climate crisis, marking what Exxon called a "critical event". The fossil fuel industry's PR apparatus swung into action, implementing a strategy straight out of big tobacco's playbook: to weaponize science against itself. A 1991 memo by Informed Citizens for the Environment made that strategy explicit: "Reposition global warming as theory (not fact)."
Industry Sponsored Climate Change Denial
The Heartland Institute The Heartland Institute is a free market think tank at the forefront of denying manmade climate change. Joseph Bast was the director and CEO of the institute from it's inception in 1984 until 2017. It has deep ties to the Koch brothers and a network of other right-wing, climate-denying think tanks. In the 1990s, the Heartland Institute worked with the tobacco company Philip Morris to question the science linking second-hand smoke to health risks, and lobbied against government public health reforms. Now, in addition to denying the health risks of smoking for big tobacco, Heartland is lining its pockets with fossil fuel funding and denying manmade climate change.
Legislative Climate Change Denial
ALEC American Legislative Exchange Council The primary agenda of ALEC is write/support bills that undermine environmental regulations and deny climate change; support school privatization; undercut health care reform; defund unions and limit their political influence; restrain legislatures' abilities to raise revenue through taxes; mandate strict election laws that disenfranchise voters; increase incarceration to benefit the private prison industry, among many other issues. Overall, we rate ALEC as right biased based on reporting choices and political affiliation. They are mixed for factual reporting based not supporting the consensus of science on environmental issues. (D. Van Zandt 8/2/2017)