News

Gretta Thunberg speech at the Goldene Kamera awards Apr 5, 2019 -- The young climate activist Greta Thunberg has been awarded the "Special Prize Climate Protection" during Germany's Media awards show GOLDENE KAMERA 2019. She used her speech to call on media celebrities to raised their voices and spread the message on climate change.

US researchers announce historic nuclear fusion breakthrough The US Department of Energy described the achievement of fusion ignition as a "major scientific breakthrough" that will lead to "advancements in national defense and the future of clean power." LLNL director Kim Budil described it as "is one of the most significant scientific challenges ever tackled by humanity."

Following the Money That Undermines Climate Science It's difficult to figure out who's funding climate denial, because many of the think tanks that continue to question established climate science are nonprofit groups that aren't required to disclose their donors. That's true of the Competitive Enterprise Institute, a free-market research organization in Washington that disputes that climate change is a problem.
10 steps you can take to lower your carbon footprint Small changes alone won't stop climate change, but your actions are still worthwhile
Greta Thunberg speaking at the UN -"Right here, right now is where we draw the line. The world is waking up. And change is coming, whether you like it or not."

Ice on Fire - An HBO Documentary
Tue, Jun 11 at 8:00pm ET on HBO Go and HBO Now
On demand: Available Wed, Jun 12
Produced by Oscar-winner Leonardo DiCaprio, George DiCaprio and Mathew Schmid and directed by Leila Conners, Ice on Fire is an eye-opening documentary that focuses on many never-before-seen solutions designed to slow down our escalating environmental crisis. The film goes beyond the current climate change narrative and offers hope that we can actually stave off the worst effects of global warming.

Climate Change Threatens the World's Food Supply, United Nations Warns The world's land and water resources are being exploited at "unprecedented rates," a new United Nations report warns, which combined with climate change is putting dire pressure on the ability of humanity to feed itself.

Emails reveal Trump official consulted climate change deniers A Trump administration national security official has sought help from advisers to a think tank that disavows climate change to challenge widely accepted scientific findings on global warming, according to his emails.

A growing plastic smog, now estimated to be over 170 trillion plastic particles afloat in the world's oceans—Urgent solutions required The peer-reviewed paper is by Marcus Eriksen of the 5 Gyres Institute, a California-based nonprofit focused on plastic pollution, and researchers at other organizations and universities. There was a previous attempt to estimate the amount of plastic afloat on ocean currents back in 2014. The updated paper relies on data from a greatly expanded set of samples, nearly 12,000, from oceans across the globe. For this study, samples were collected by dragging a net with exceptionally fine mesh for several kilometers across the ocean surface to determine an average amount of particles per kilometer of water. Then a computer model analyzed how plastic concentrates as it leaves rivers, coastlines and shipping lanes. From this the researchers extrapolated to an estimate of items for the global ocean. They then tested their model against real-world concentrations. Taken between 1979 and 2019, the samples reveal a rapid and unprecedented increase in ocean plastics since 2005.

Alaska Natives Beg Biden to Halt Massive Oil Project The Willow Project, proposed by ConocoPhillips, would be the largest single oil development to proceed under the Biden administration if it is approved. The project would pump more than 600 million barrels of oil over 30 years from a rapidly warming Arctic region, and environmental groups say it is wholly inconsistent with the administration's climate goals. "The biggest message we're sending out loud today is that now is the time for the Biden administration to lead us into a just transition off of fossil fuels and into a more regenerative economy," said Karlin Nageak Itchoak, senior regional director for The Wilderness Society's Arctic region.

Groundbreaking air pollution study finds almost no safe place on Earth Just 0.001 percent of the world's population, according to a groundbreaking study published in Lancet Planetary Health on March 6, of daily ambient fine particulate matter (PM2.5) globally, is exposed to safe levels advised by the World Health Organization (WHO). The lack of air pollution monitoring stations has led to an absence of information on local, national, regional, and global PM2.5 exposure. Now, this new analysis, which also produced a map, is the first in the world to demonstrate how the global distribution of PM2.5 has changed over the past few decades.

The Dishonest Accounting of Net-Zero Emissions The press has too often given companies a free ride when it comes to their claims to be heading toward "net zero." Even the world's most prominent gathering of financial elites at the World Economic Forum — the ones who meet each year in the snowy ski chalets of Davos, Switzerland — cautioned against greenwashing by companies maneuvering for position in a suddenly climate-awakened world, and placed "net zero" at the top of their list of possibly misleading claims. Several regulatory agencies in this country and abroad have begun to watch for greenwashers far more closely than ever before in the context of false advertising.

10 of the best climate change documentaries to see in 2023 -"CommUnity" was the festival theme this year, a concept that came roaring to life throughout the nine film venues scattered across downtown Nevada City and Grass Valley, sister towns in the Sierra Nevada foothills. The film selections included a wide range of films focused on people with different backgrounds, and ASL interpreters stood alongside presenters on stage at several screenings.

Youth Climate Anxiety: Can Talking About Climate Change at Home Make a Difference? More than two-thirds of adults in America have reported experiencing some form of anxiety around climate change, children and young adults are often the focus of conversation — and not without reason. The Washington Post recently reported the average 6-year-old will witness three times as many climate disasters as their grandparents, and seven times as many heat waves. That's a scary future to face for anyone, let alone an elementary schooler. It's no surprise then in 2021 84% of young people between 16-25 years were at least moderately worried about climate change, and 59% were very or extremely worried.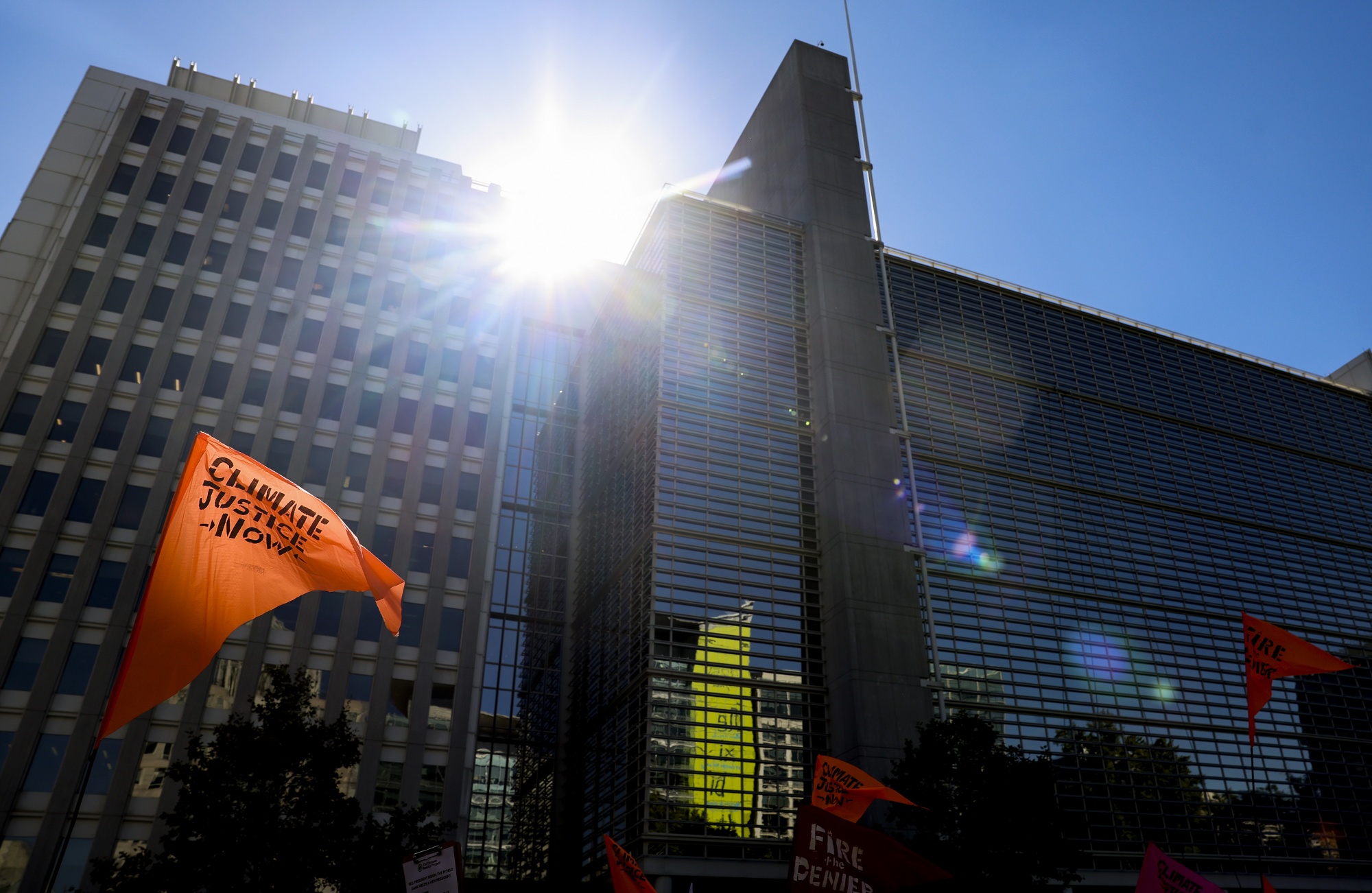 The World Bank Must Take Bolder Action on Climate The heart of the World Bank's mission — reducing poverty and increasing economic development — is severely threatened by climate change. As warming intensifies and extreme weather worsens, the developing world will increasingly suffer the worst harms, making it more difficult for countries to meet their economic and social development goals. Putting access to clean, reliable and affordable energy at the center of its work is the only way the bank can fulfill its mission of supporting economic development and improving lives.

Google Greenwashes a Dirty Partnership with Climate-Destroying Saudi Aramco A recent New York Times investigation into Aramco found the firm's eco-friendly initiatives are only part of a broader strategy to keep the planet addicted to Saudi fossil fuels for decades to come. The Times report noted that by reducing peripheral emissions, like methane leaks, Aramco gains the credibility needed to publicly pledge it will itself stop emitting greenhouse gases by 2050. All the while, the theory goes, the massive emissions caused by the continued global consumption of its chief products — oil and gas — will be ignored. "People would like us to give up on investment in hydrocarbons. But no," Aramco CEO Amin Nasser told the Times.

Biden Clears the Way for Alaska Oil Project The Biden administration on Wednesday took a crucial step toward approving a $8 billion ConocoPhillips oil drilling project on the National Petroleum Reserve in Alaska, drawing the anger of environmentalists who say the vast new fossil fuel development poses a dire threat to the climate.

Tell Mondelēz: Respect Indigenous Rights Mondelēz, the proud maker of Cadbury and Oreos, say they respect Indigenous rights but they are buying palm oil from controversial companies like the Harita Group who is threatening to log the forests belonging to the Indigenous Long Isun community in Indonesia.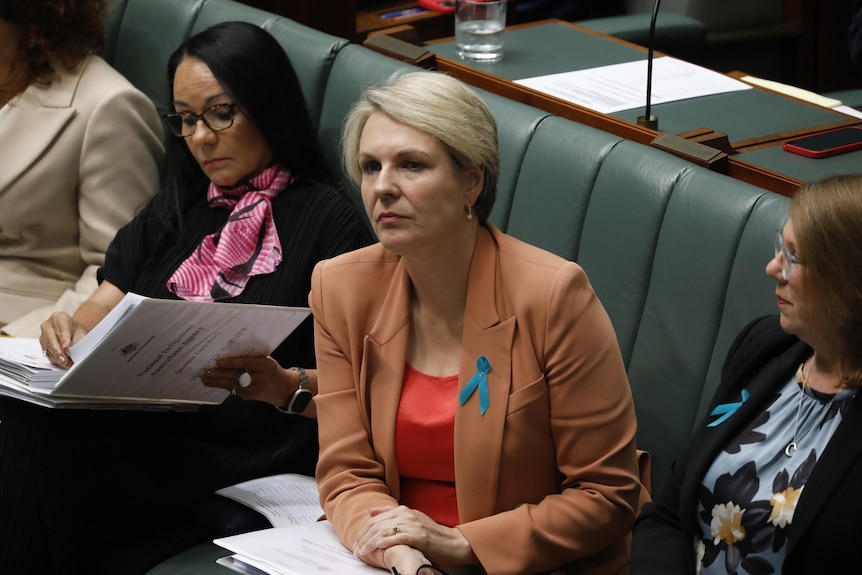 Environment Minister Tanya Plibersek blocks Clive Palmer's Central Queensland coal mine -"I have decided not to approve the Central Queensland Coal Project because the risks to the Great Barrier Reef, freshwater creeks and groundwater are too great," Ms Plibersek said in a statement. "Freshwater creeks run into the Great Barrier Reef and onto seagrass meadows that feed dugongs and provide breeding grounds for fish."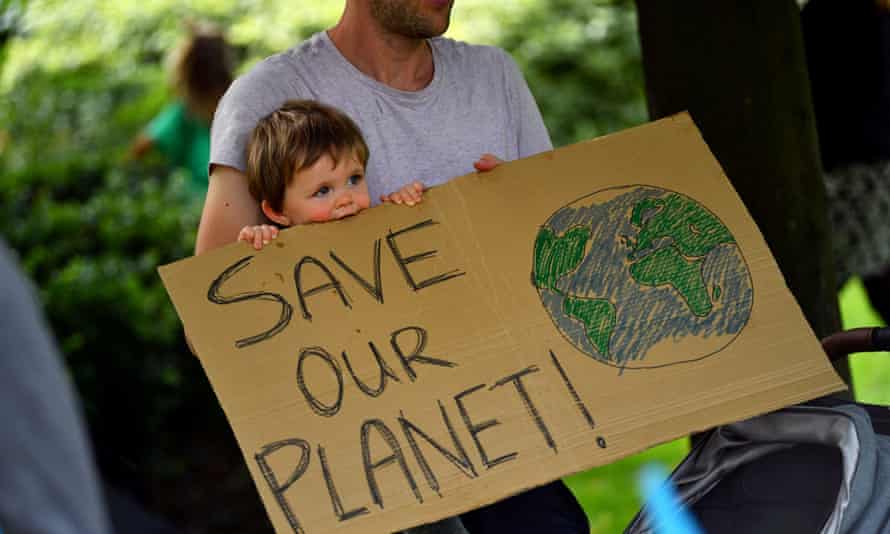 This Guide Can Help You Save Money and Fight Climate Change Taking advantage of the new law will require some planning, experts said, especially when it comes to major purchases and renovations. It helps that many of the benefits will be around for a decade or more, though not all of them are available just yet: Federal tax credits took effect on Jan. 1, but rebates, which will offer billions of dollars in up-front discounts or partial refunds to consumers through state and tribal governments, won't roll out until later this year.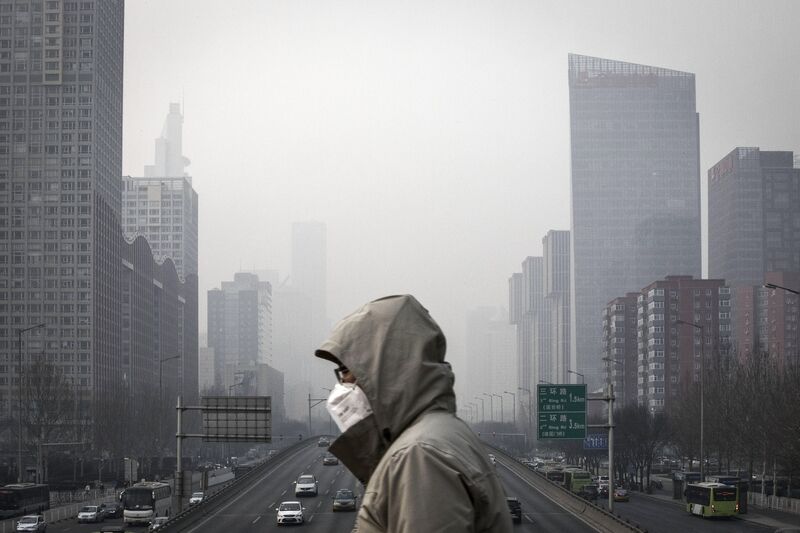 Study Reveals Little-Known Climate Cooler: Atmospheric Dust -"The increase in dust has likely masked some of the power of greenhouse gases to warm the planet," says Jasper Kok, co-author of the study and a professor at the University of California, Los Angeles (UCLA). "In the future, when we're not likely to see similar increases in dust — and might even see a decrease — greenhouse gases might warm the planet even more than climate models already predict."

Banks still financing new oil and gas projects despite carbon neutrality pledges A study by Reclaim Finance, 350.org, BankTrack, Rainforest Action Network, Recommon, Urgewald, Les Amis de la Terre, Sierra Club and Stand Earth found that many lenders in GFANZ's Net Zero Banking Alliance sub-group are continuing to finance new oil projects, which experts believe to be incompatible with limiting global warming to 1.5 degrees Celsius.  "Between their date of joining and August 2022, the 56 top banks in the NZBA provided at least US$269 billion to 102 of the major fossil fuel expanders," said the groups.  At the top of the list were two US lenders: Citigroup, with $30.5 billion in financing to groups expanding oil and gas production, followed by Bank of America with $22.8 billion. In third place was Japan's MUFG at $22.7 billion.

Swiss company that counts Microsoft as a customer says it's removed CO2 from the air and put it in the ground Swiss company Climeworks announced Thursday that it has successfully taken carbon dioxide out of the air and put it in the ground where it will eventually turn into rock in a process that has been verified by an independent third-party auditor. It the first time a company has successfully taken carbon dioxide out of the atmosphere, put it underground to be locked away permanently and delivered that permanent carbon removal to a paying customer.
How climate change will make atmospheric rivers even worse Perhaps one of the most well-understood aspects of climate change is its effect on rain. In a warmer atmosphere, evaporation rates increase and transform more liquid water molecules to a vapor state in the air. In fact, the atmosphere can hold about 7 percent more water for every 1-degree Celsius (1.8-degree Fahrenheit) increase. This moisture-laden air can drop heavier amounts of rainfall at one time, increasing the intensity of rain events.
Exxon accurately predicted global warming from 1970s – but continued to cast doubt on climate science, new report finds ExxonMobil's own scientists accurately predicted future global warming in reports dating back to the late 1970s and early 1980s, despite the company publicly continuing for years to cast doubt on climate science and lobby against climate action, according to a new analysis.

NASA Space Missions Pinpoint Sources of CO2 Emissions on Earth A case study involving Europe's largest coal-fired power plant shows space-based observations can be used to track carbon dioxide emissions – and reductions – at the source. A duo of Earth-observing missions has enabled researchers to detect and track carbon dioxide (CO2) emission changes from a single facility, using the world's fifth-largest coal-fired power plant as a test case.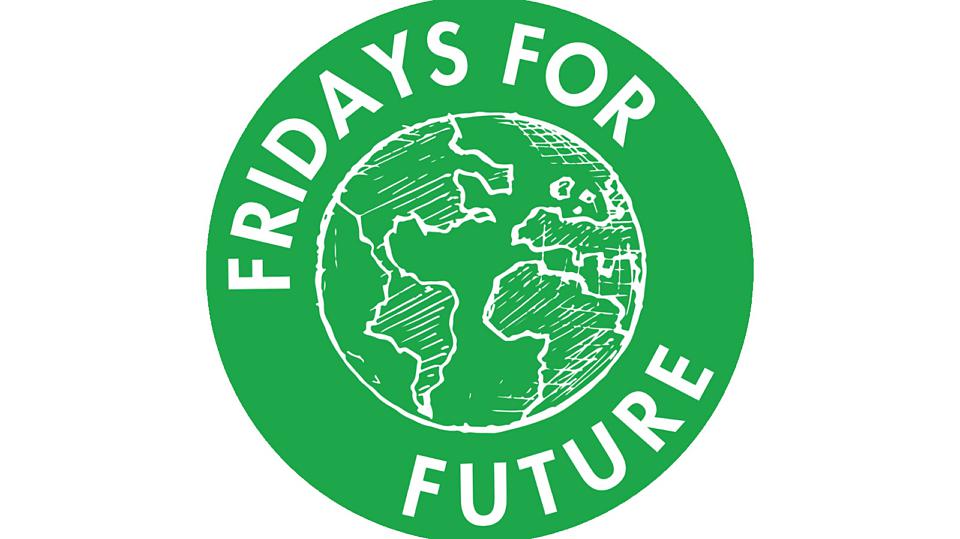 Easing Your Climate Anxiety, from Fridays for Future We begin 2023 with a series called Easing Your Climate Anxiety, with the goal of supporting climate activists and others. We will cover subjects from wellness to plastics, from travel to art and writing. We aim to keep it simple and bite-sized.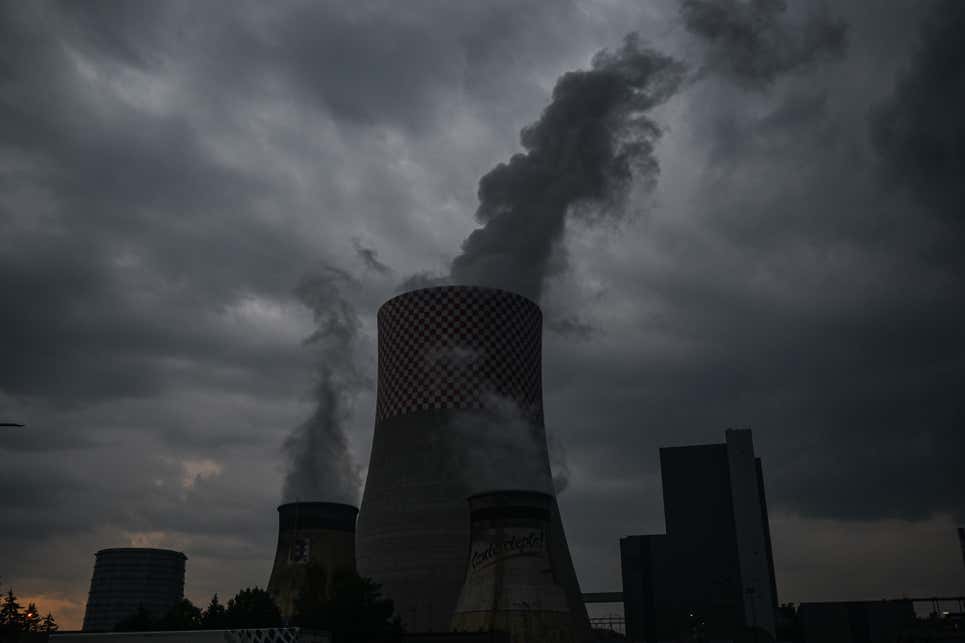 The world is using more coal than ever According to a report released last week by the International Energy Agency (IEA), 2022's global coal use will surpass the last record, which was set in 2013. The IEA expects coal use to peak either this year or in 2023, then plateau until 2025, before declining again.

Countries agree historic deal to protect nature The deal pledges to secure 30 percent of the planet as a protected zone by 2030, stump up $30 billion in yearly conservation aid for the developing world and halt human-caused extinctions of threatened species. Environmentalists have compared it to the landmark plan to limit global warming to 1.5C under the Paris agreement, though some warned that it did not go far enough.

COP28 must target 'equitable' energy transition: UAE Next year's UN climate talks in the United Arab Emirates must work towards a just and equitable energy transition, the oil-rich host country, seeking a gradual move from fossil fuels, said Friday.

The end is nigh? Climate, nuclear crises spark fears of worst In extremes widely attributed to climate change, floods submerged one-third of Pakistan, China sweat under an unprecedented 70-day heatwave and crops failed in the Horn of Africa, all while the world lagged behind on the UN-blessed goal of checking warming at 1.5 degrees Celsius (2.7 degrees Fahrenheit) above pre-industrial levels. UN experts estimated ahead of November talks in Egypt that the world was on track to warming of 2.1 to 2.9 C -- but some outside analysts put the figure well higher, with greenhouse gas emissions in 2021 again hitting a record despite pushes to renewable energy.
We looked at 1,200 possibilities for the planet's future. These are our best hope. Working with experts from the Potsdam Institute for Climate Impact Research in Germany, we explored the central features of these scenarios — how fast the world embraces clean energy, how quickly we can remove greenhouse gases from the atmosphere — and looked at how these in turn affect the planet's temperature over the course of the century. The results, as you will see, show a world that keeps inching closer to catastrophic climate change. But they also point a way toward a less hot future. The scenarios help show us what needs to be done — and what we can still do.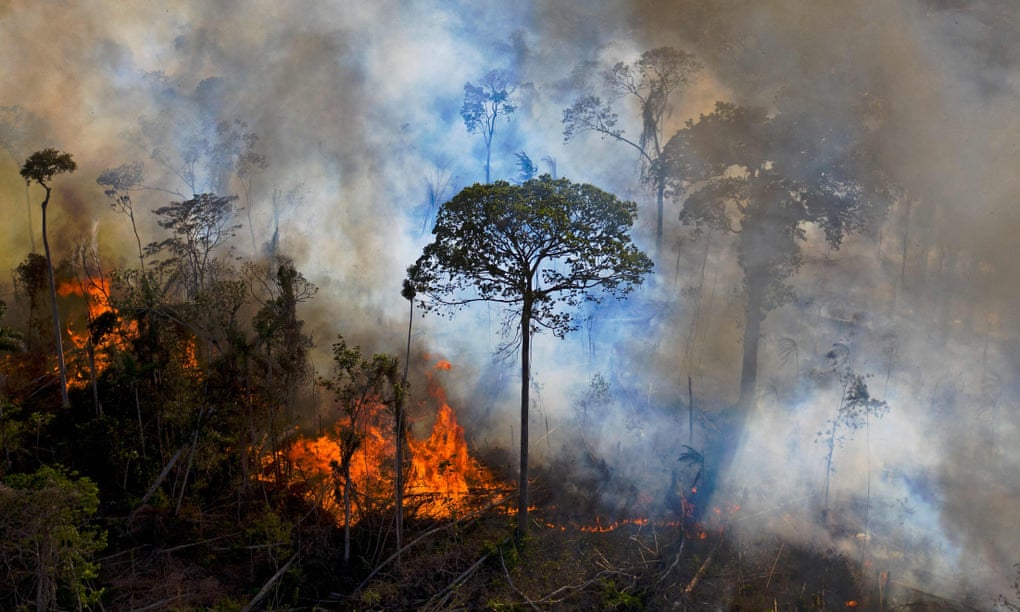 From the Amazon to Australia, why is your money funding Earth's destruction? The world's most destructive industries are fiercely protected by governments. The three sectors that appear to be most responsible for the collapse of ecosystems and erasure of wildlife are fossil fuels, fisheries and farming. In 2021, governments directly subsidised oil and gas production to the tune of $64bn (£53bn), and spent a further $531bn (£443bn) on keeping fossil fuel prices low. The latest figures for fisheries, from 2018, suggest that global subsidies for the sector amount to $35bn a year, over 80% of which go to large-scale industrial fishing. Most are paid to "enhance capacity": in other words to help the industry, as marine ecosystems collapse, catch more fish.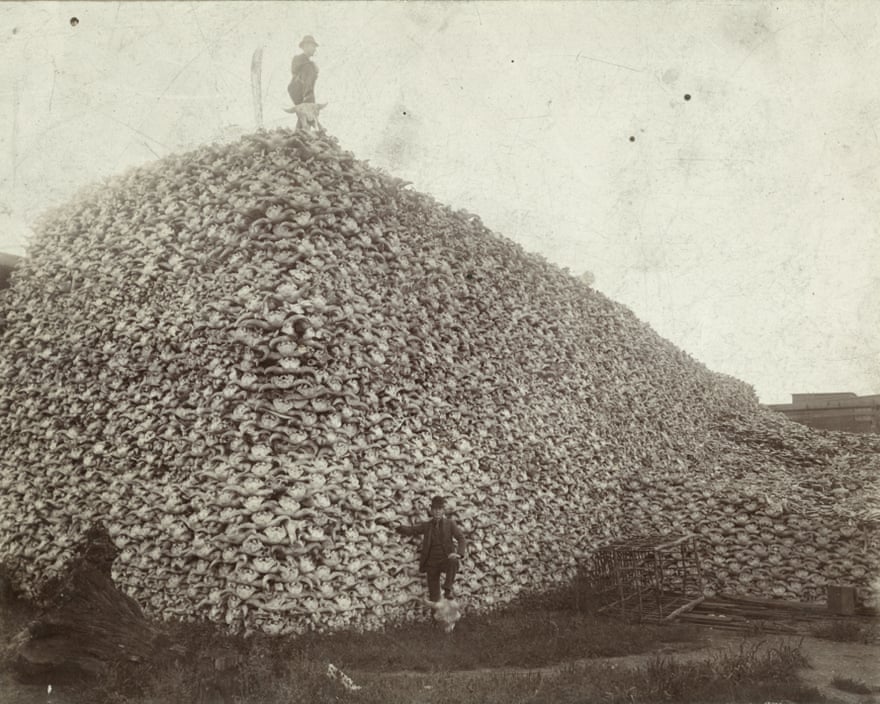 Humans v nature: our long and destructive journey to the age of extinction Although the debate is far from settled, it appears ancient humans took thousands of years to wipe out species in a way modern humans would do in decades. Fast forward to today and we are not just killing megafauna but destroying whole landscapes, often in just a few years. Farming is the primary driver of destruction and, of all mammals on Earth, 96% are either livestock or humans. The UN estimates as many as one million plant and animal species are at risk of extinction.

A warmer Arctic Ocean leads to more snowfall further south Rising air temperatures due to global warming melt glaciers and polar ice caps. Seemingly paradoxically, snow cover in some areas in northern Eurasia has increased over the past decades. However, snow is a form of water; global warming increases the quantity of moisture in the atmosphere, and thus the quantity and likelihood of rain and snow. Understanding where exactly the moisture comes from, how it is produced and how it is transported south is relevant for better predictions of extreme weather and the evolution of the climate.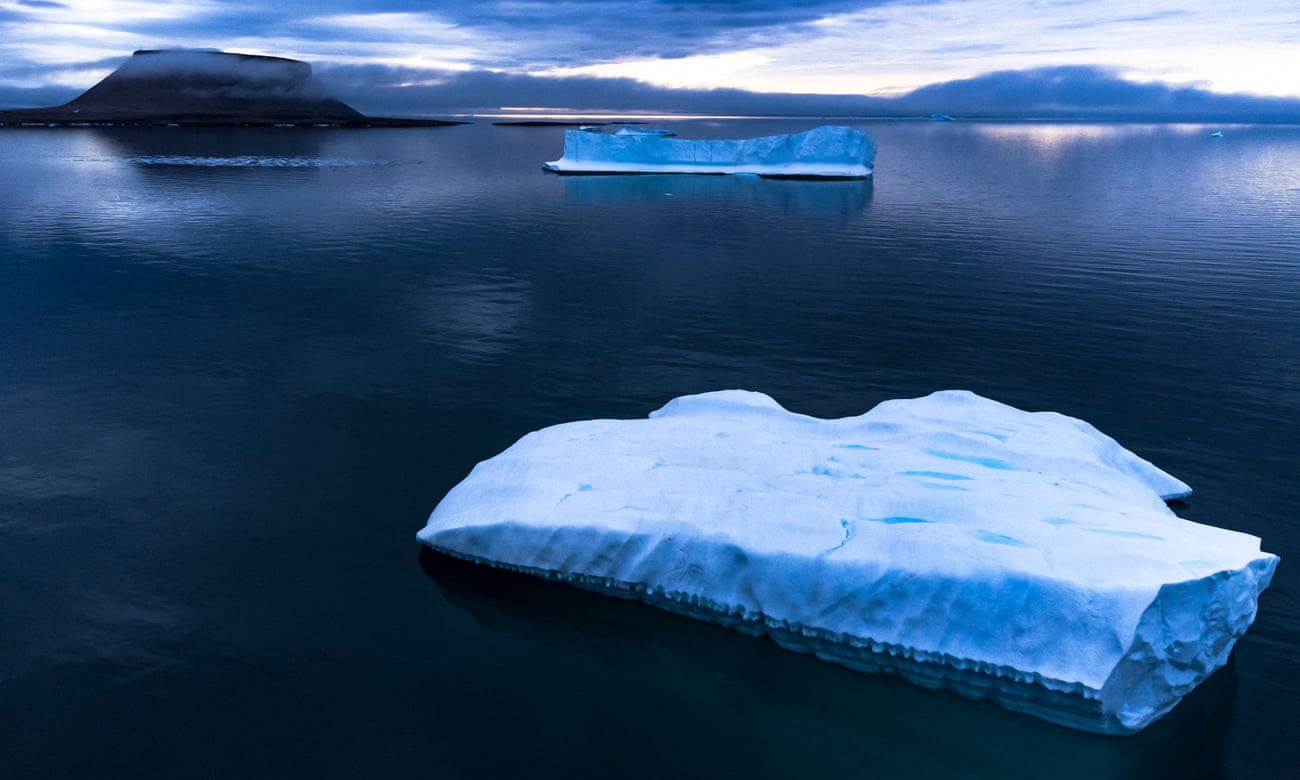 Melting point: could 'cloud brightening' slow the thawing of the Arctic? Like the apocryphal frog that doesn't notice the rising water temperature until it's boiled alive, we as a global society are still struggling to recognise that anthropic global warming is hastening us towards irreversible environmental and ecological catastrophe. While there is consensus among climate scientists about the urgency of the situation, and widespread political acknowledgment that the use of carbon fuels must be reduced, targets have not been met and as the UK's Cop26 president, Alok Sharma, said, the lack of progress at this month's Cop27 demonstrates the 1.5C limit is on "life support" and there is growing evidence that we are further along the road to a tipping point than previously thought.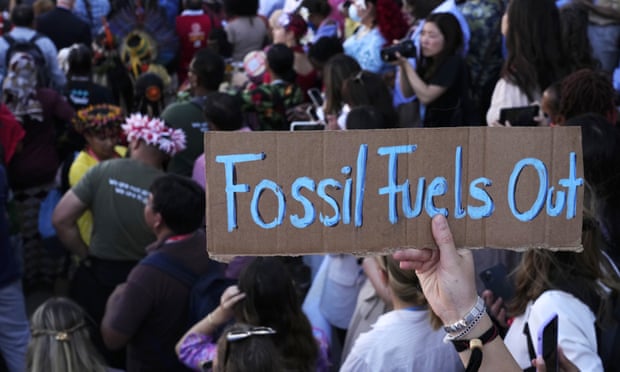 Make ecocide an international crime and other legal ideas to help save the planet It's all too easy to feel overwhelmed and helpless in the face of such widespread catastrophe. But we as citizens can do something right now. There are many interesting and entirely workable legal ideas percolating around the world from some very thoughtful people. Together, alongside increased citizen activism, these ideas can begin to provide a coherent and comprehensive legal framework for all of us to help save the planet.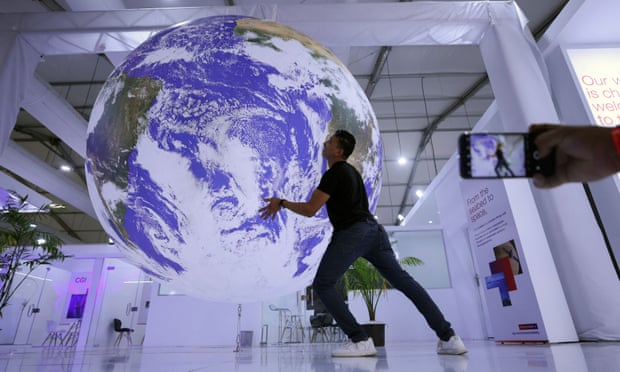 What are the key outcomes of Cop27 climate summit? From loss and damage to 1.5C goal and World Bank reform, the takeaways from Sharm el-Sheikh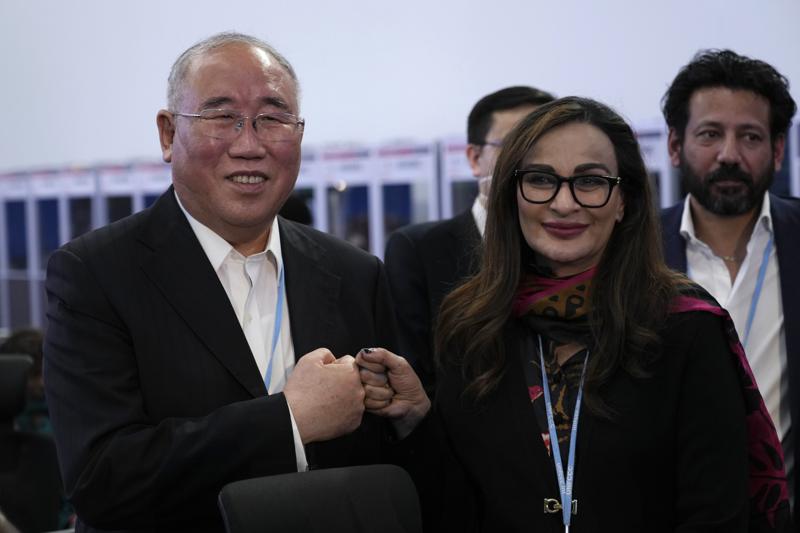 UN climate deal: Calamity cash, but no new emissions cuts For the first time, the nations of the world decided to help pay for the damage an overheating world is inflicting on poor countries, but they finished marathon climate talks on Sunday without further addressing the root cause of those disasters — the burning of fossil fuels.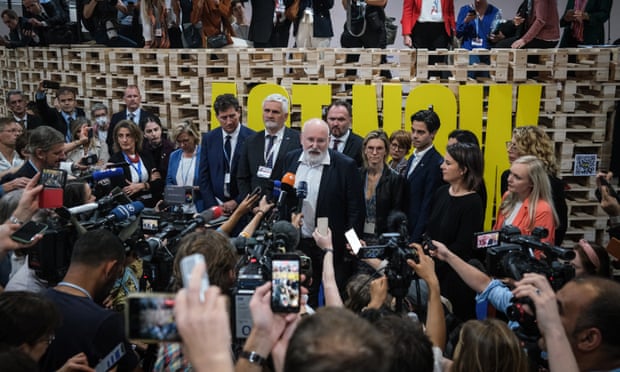 Cop27 talks in disarray with 1.5C goal at risk, campaigners warn Several people told the Guardian it was the worst climate talks they had been involved in. One described them as "untransparent, unpredictable and chaotic".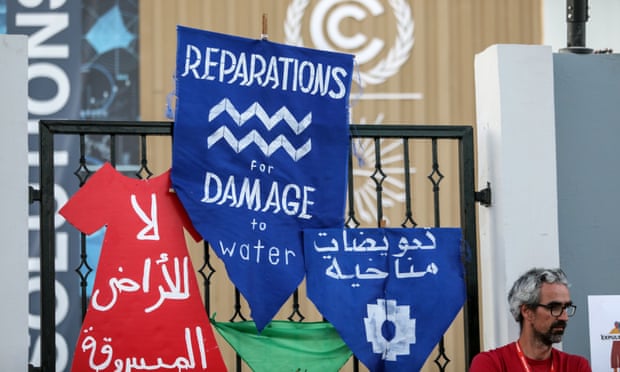 US shamed as the 'colossal fossil' of Cop27 climate summit by campaigners The US has been named the "colossal fossil" of the Cop27 climate talks by campaigners who criticised the country for its intransigence in providing support to developing countries hit hardest by the climate crisis. The "award", unveiled at a ceremony featuring a person dressed as a dinosaur, is an annual event staged by Climate Action Network International to shame the countries deemed to be blocking climate progress.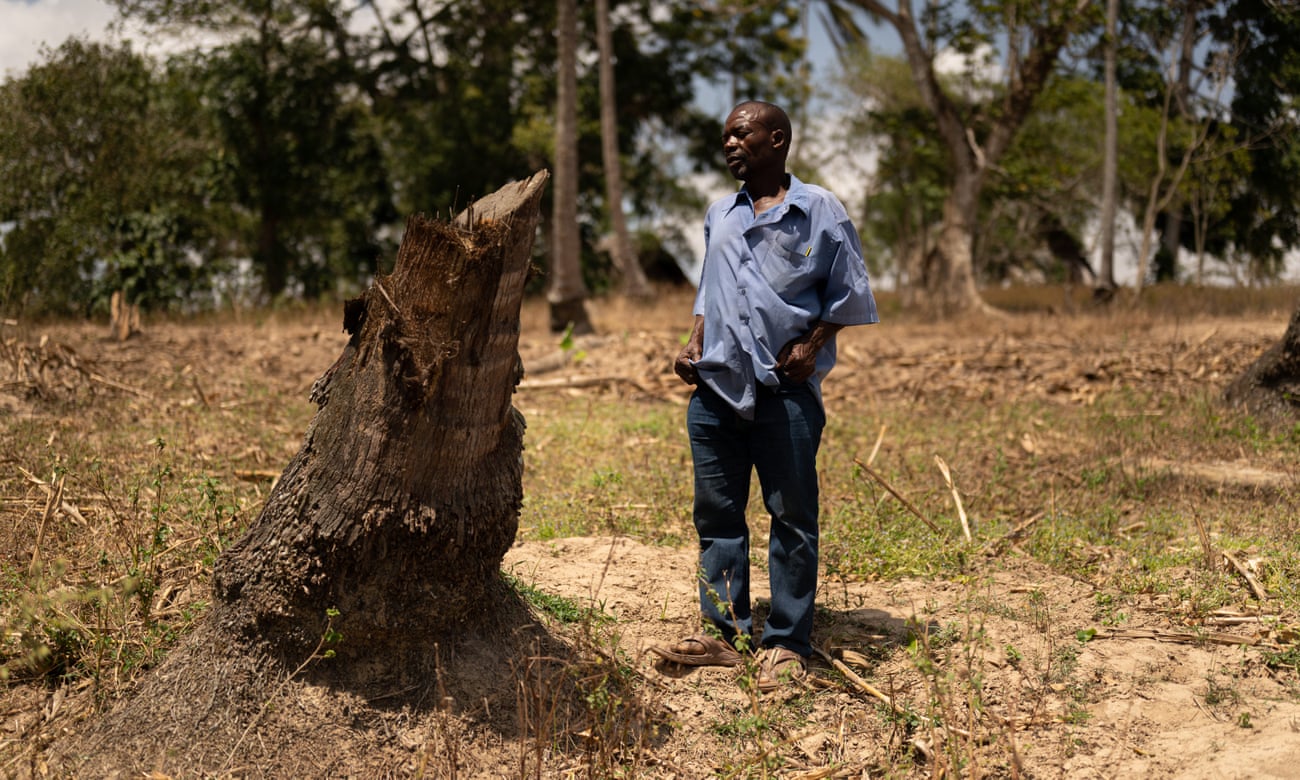 'You'll rarely find a climate denier in east Africa' Recently, I interviewed a 70-year-old coconut farmer, who told me about the hundreds of trees he was losing to the drought ravaging his home town of Rabaiin southern Kenya. Fighting back tears, he told me how weather patterns that he could no longer master or predict had left him without a way to provide for his family. He and the other farmers here may not know the science behind climate change but it's a part of their lived reality.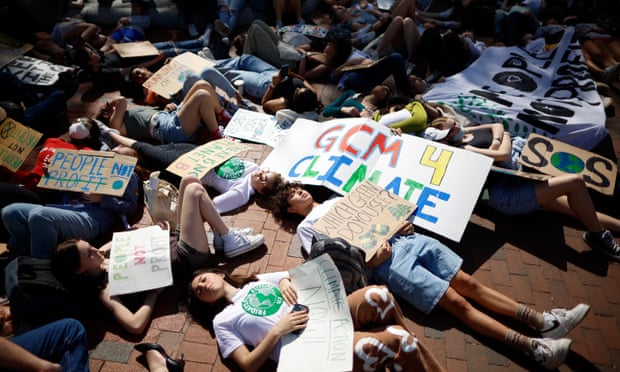 Voters pass historic climate initiatives in 'silent surprise' of US midterms Among the measures passed were a historic multibillion-dollar investment into environmental improvement projects in New York state, including up to $1.5bn in funding for climate change mitigation. This election also saw a $50m green bond act pass in Rhode Island, and in Colorado, the city of Boulder approved a climate tax as well as a ballot measure that will allow the city to borrow against that tax to fund climate projects.

EU vows $1 billion package for climate resilience in Africa The European Union on Wednesday said it would dedicate more than $1 billion in climate funding to help countries in Africa boost their resilience in the face of the accelerating impact of global warming.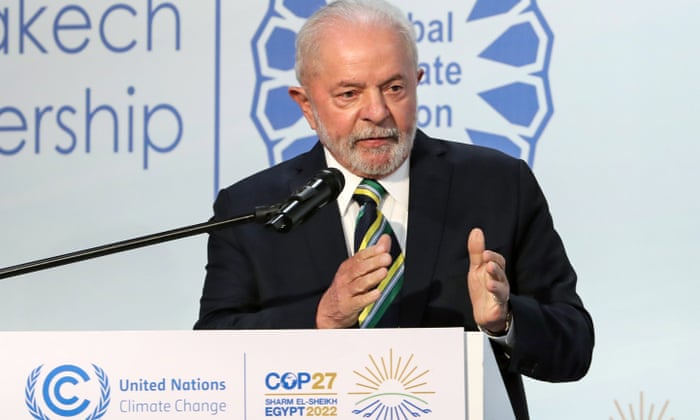 Lula vows to undo environmental degradation and halt deforestation President-elect Luiz Inácio Lula da Silva has told the world that "Brazil is back" at Cop27, vowing to begin undoing the environmental destruction seen under his far-right predecessor, Jair Bolsonaro, and work towards zero deforestation of the Amazon rainforest.

G20 breathes new life into UN climate talks -"The positive signals from the G20 summit should put wind in the sails of the climate talks in Egypt, which are entering their final days," said Ani Dasgupta, CEO of the World Resources Institute.

US, China agree to resume climate cooperation The United States and China will resume cooperation on fighting climate change that Beijing had halted in anger after US House Speaker Nancy Pelosi visited Taiwan, the White House said Monday.

Health Group Accuses Canadian Gas Association of Greenwashing The complaint filed against CGA centers on an ad campaign from last November called "Fuelling Canada," which presents so-called natural gas as "clean" and "affordable" when, in reality, the gas is mostly made up of a potent greenhouse gas called methane that does more damage to the planet in the short-term than carbon dioxide. The campaign has a website and ran on social media, including Facebook, Instagram and Twitter.

Climate activists challenge TotalEnergies CEO at COP27 French giant TotalEnergies' chief executive was confronted by climate activists Friday at the COP27 summit in Egypt, where the presence of fossil fuel firms has drawn backlash.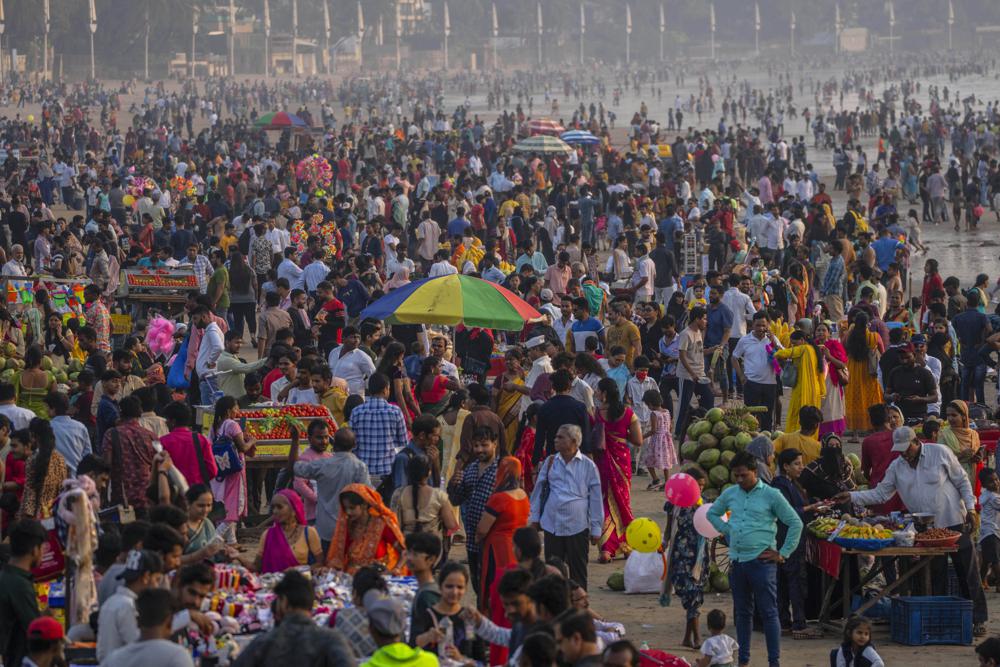 The Earth at 8 Billion: Consumption not crowd is the key to climate change While more people consuming energy, mostly from the burning of fossil fuels, is warming the planet, the key issue isn't the number of people as much as how a small fraction of those people are causing way more than their share of carbon pollution, several climate and population experts told The Associated Press.