Welcome

Greta Thunberg tells it like it is in "The Climate Book" It's the most ambitious, wide-ranging, and hard-hitting collection I have ever encountered. And it's all inspired by the young woman who so publicly dared to speak truth to power at Davos and the U.N. on climate change.

Have Climate Questions? Get Answers Here. Climate change is tremendously complex — and we're here to help. The climate desk at The Times has been collecting reader questions and has started answering them here.
"Leaders must 'choose life over death' and end the use of fossil fuels."
-- Al Gore
"We don't inherit the earth from our ancestors;
we borrow it from our children."
-- the wisdom of Chief Seattle
"Be Imperfectly Vegan
Be Imperfectly Zero Waste
Be Imperfectly Plastic Free
Be Imperfectly Sustainable

 
Because small conscious changes
are better than none at all."


--Amber Allen @thefairlylocalfamily
The ClimateChange.Tips website is for people who are concerned about climate change. Our goal is to make it easy to stay abreast of the best, trusted information on the science, social activism, and politics of this looming crisis. We intend to empower individuals to make lifestyle changes that will reduce their carbon footprint.
A short list of things you can do today:
Get involved and VOTE!
Use reusable bags and bottles.
Avoid all plastic where possible.
Recycle correctly and compost.
Use energy efficient appliances and bulbs.
Insulate and turn down the heat and hot water.
Walk, take public transport, carpool, and avoid flying.
Eat less red meat.
Plant trees.
Get family, friends, and your workplace to make similar changes.
" Saving our planet, lifting people out of poverty, advancing economic growth... these are one and the same fight. We must connect the dots between climate change, water scarcity, energy shortages, global health, food security and women's empowerment. Solutions to one problem must be solutions for all."
— Ban Ki-moon
"Now is the time to understand more, so we fear less."

"There are absolutely people dying climate-related deaths right now."
Misha Coleman, World Health Organization
If you have comments or suggestions, please email them to editor@climatechange.tips.
Our Inspiration
One Thing You Can Do Now
Go meat free for just a few days a week - be kind to your heart and to your wallet, but also be good to the planet.

Why?: Roughly 18 per cent of greenhouse gases are caused by livestock farming. Producing just one beef steak emits more CO2 than you would by driving for an hour and leaving all the lights on at home.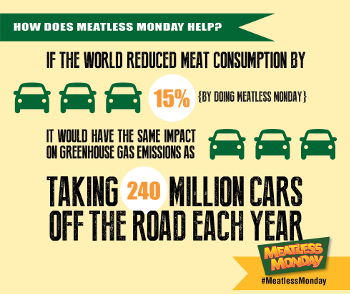 News

Gretta Thunberg speech at the Goldene Kamera awards Apr 5, 2019 -- The young climate activist Greta Thunberg has been awarded the "Special Prize Climate Protection" during Germany's Media awards show GOLDENE KAMERA 2019. She used her speech to call on media celebrities to raised their voices and spread the message on climate change.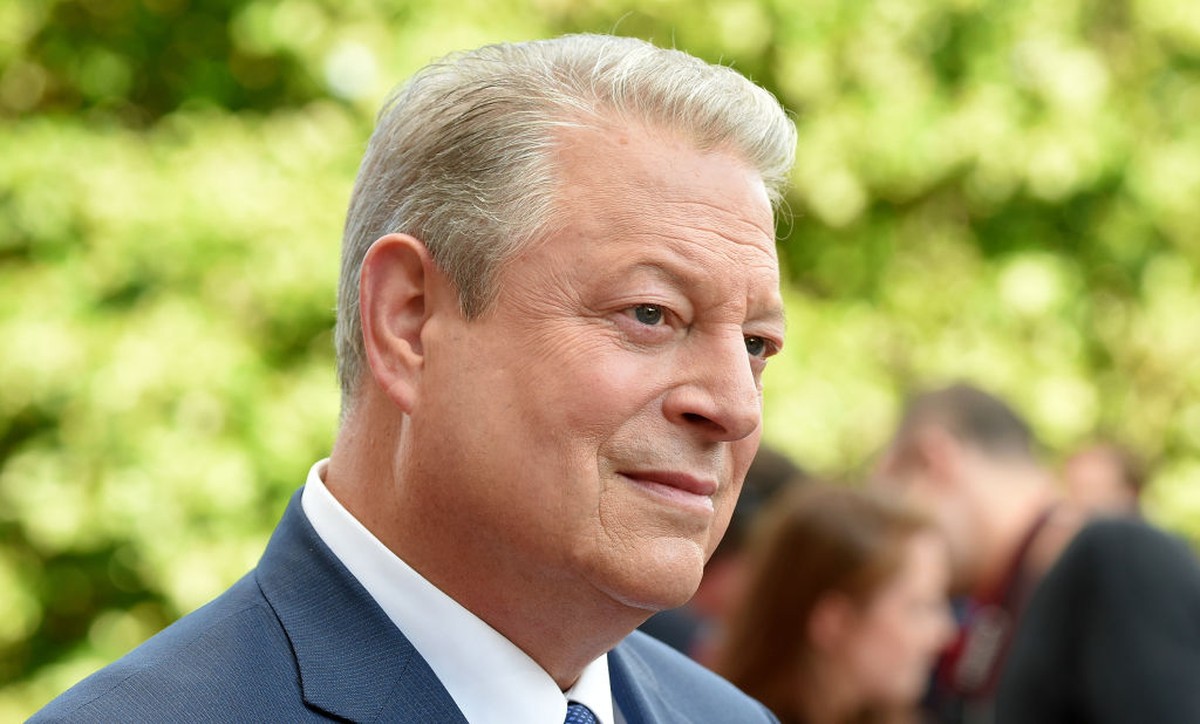 Al Gore at the Opening of the #COP27 YOU MUST LISTEN TO THIS!

US researchers announce historic nuclear fusion breakthrough The US Department of Energy described the achievement of fusion ignition as a "major scientific breakthrough" that will lead to "advancements in national defense and the future of clean power." LLNL director Kim Budil described it as "is one of the most significant scientific challenges ever tackled by humanity."

A Lifetime's Consumption of Fossil Fuels, Visualized On a day-to-day basis, our fossil fuel consumption might seem minimal, however, in just a year the average American consumes more than 23 barrels of petroleum products like gasoline, propane, or jet fuel.

Following the Money That Undermines Climate Science It's difficult to figure out who's funding climate denial, because many of the think tanks that continue to question established climate science are nonprofit groups that aren't required to disclose their donors. That's true of the Competitive Enterprise Institute, a free-market research organization in Washington that disputes that climate change is a problem.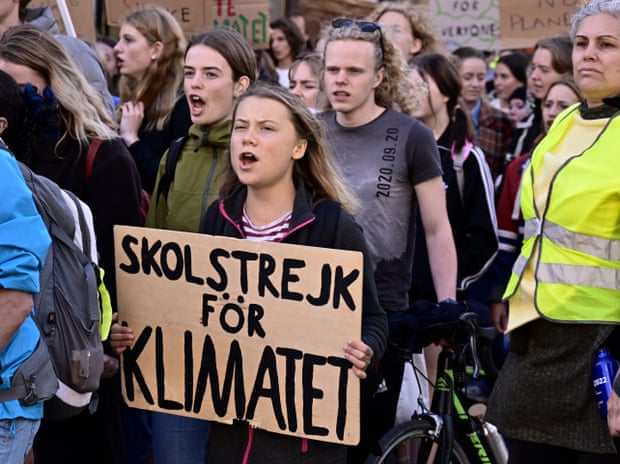 Greta Thunberg on the climate delusion: 'We've been greenwashed out of our senses. It's time to stand our ground' Climate change has become a crisis sooner than expected. So many of the researchers I've spoken to have said that they were shocked to witness how quickly it is escalating. But since science is very cautious when it comes to making predictions, maybe this should not come as a big surprise. One result of this, however, is that very few people actually knew how to react when the signs started becoming obvious in recent years. And fewer still had planned how to communicate what is happening. It seems like the vast majority of people were preparing for a different, less urgent scenario. A crisis that would take place many decades into the future. And yet here we are. The climate and ecological crisis is not happening in some faraway future. It's happening right here and right now.
10 steps you can take to lower your carbon footprint Small changes alone won't stop climate change, but your actions are still worthwhile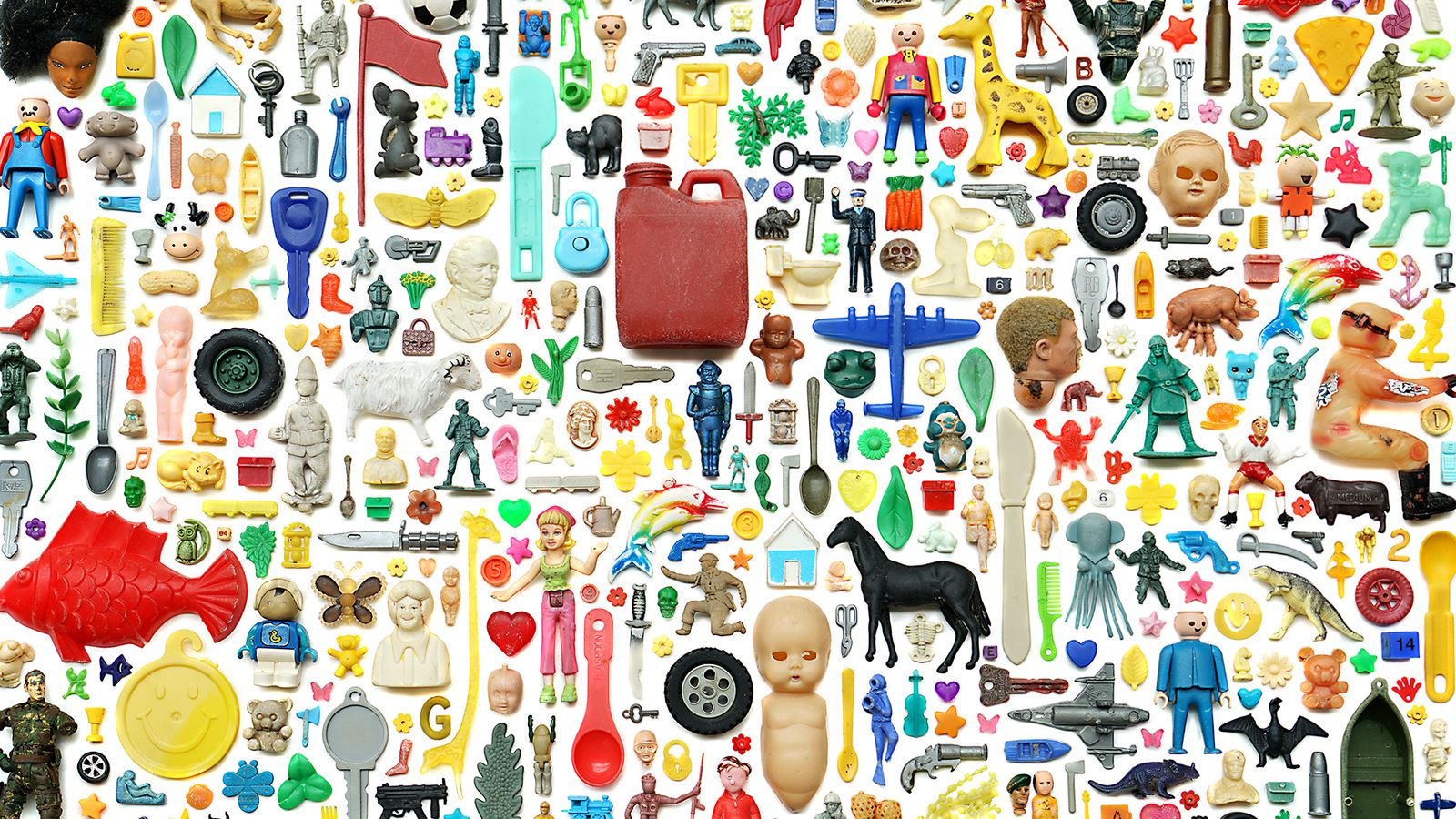 Special report: Our plastic planet Activist consumer groups are pushing for less use, and to some extent, less production, while industry aims for increased recycling. Plastics demand is projected to only increase — and the footprint of plastic pollution with it.
Recent News

2023-03-09 A growing plastic smog, now estimated to be over 170 trillion plastic particles afloat in the world's oceans—Urgent solutions required The peer-reviewed paper is by Marcus Eriksen of the 5 Gyres Institute, a California-based nonprofit focused on plastic pollution, and researchers at other organizations and universities. There was a previous attempt to estimate the amount of plastic afloat on ocean currents back in 2014. The updated paper relies on data from a greatly expanded set of samples, nearly 12,000, from oceans across the globe. For this study, samples were collected by dragging a net with exceptionally fine mesh for several kilometers across the ocean surface to determine an average amount of particles per kilometer of water. Then a computer model analyzed how plastic concentrates as it leaves rivers, coastlines and shipping lanes. From this the researchers extrapolated to an estimate of items for the global ocean. They then tested their model against real-world concentrations. Taken between 1979 and 2019, the samples reveal a rapid and unprecedented increase in ocean plastics since 2005.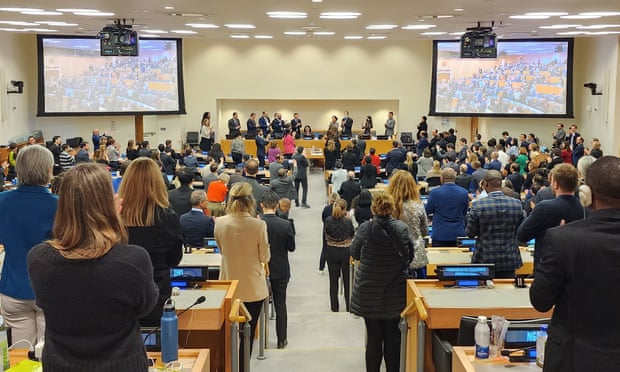 2023-03-09 High seas treaty: historic deal to protect international waters finally reached at UN The historic treaty is crucial for enforcing the 30x30 pledge made by countries at the UN biodiversity conference in December, to protect a third of the sea (and land) by 2030. Without a treaty, this target would certainly fail, as until now no legal mechanism existed to set up MPAs on the high seas. Covering almost two-thirds of the ocean that lies outside national boundaries, the treaty will provide a legal framework for establishing vast marine protected areas (MPAs) to protect against the loss of wildlife and share out the genetic resources of the high seas. It will establish a conference of the parties (Cop) that will meet periodically and enable member states to be held to account on issues such as governance and biodiversity.

2023-03-08 Alaska Natives Beg Biden to Halt Massive Oil Project The Willow Project, proposed by ConocoPhillips, would be the largest single oil development to proceed under the Biden administration if it is approved. The project would pump more than 600 million barrels of oil over 30 years from a rapidly warming Arctic region, and environmental groups say it is wholly inconsistent with the administration's climate goals. "The biggest message we're sending out loud today is that now is the time for the Biden administration to lead us into a just transition off of fossil fuels and into a more regenerative economy," said Karlin Nageak Itchoak, senior regional director for The Wilderness Society's Arctic region.

2023-03-07 Super-Emitting "Methane Bombs" Are a Dire Threat to Humanity More than 1,000 "super-emitter" sites gushed the potent greenhouse gas methane into the global atmosphere in 2022, the Guardian can reveal, mostly from oil and gas facilities. The worst single leak spewed the pollution at a rate equivalent to 67 million running cars. Separate data also reveals 55 "methane bombs" around the world—fossil fuel extraction sites where gas leaks alone from future production would release levels of methane equivalent to 30 years of all US greenhouse gas emissions.

2023-03-07 Groundbreaking air pollution study finds almost no safe place on Earth Just 0.001 percent of the world's population, according to a groundbreaking study published in Lancet Planetary Health on March 6, of daily ambient fine particulate matter (PM2.5) globally, is exposed to safe levels advised by the World Health Organization (WHO). The lack of air pollution monitoring stations has led to an absence of information on local, national, regional, and global PM2.5 exposure. Now, this new analysis, which also produced a map, is the first in the world to demonstrate how the global distribution of PM2.5 has changed over the past few decades.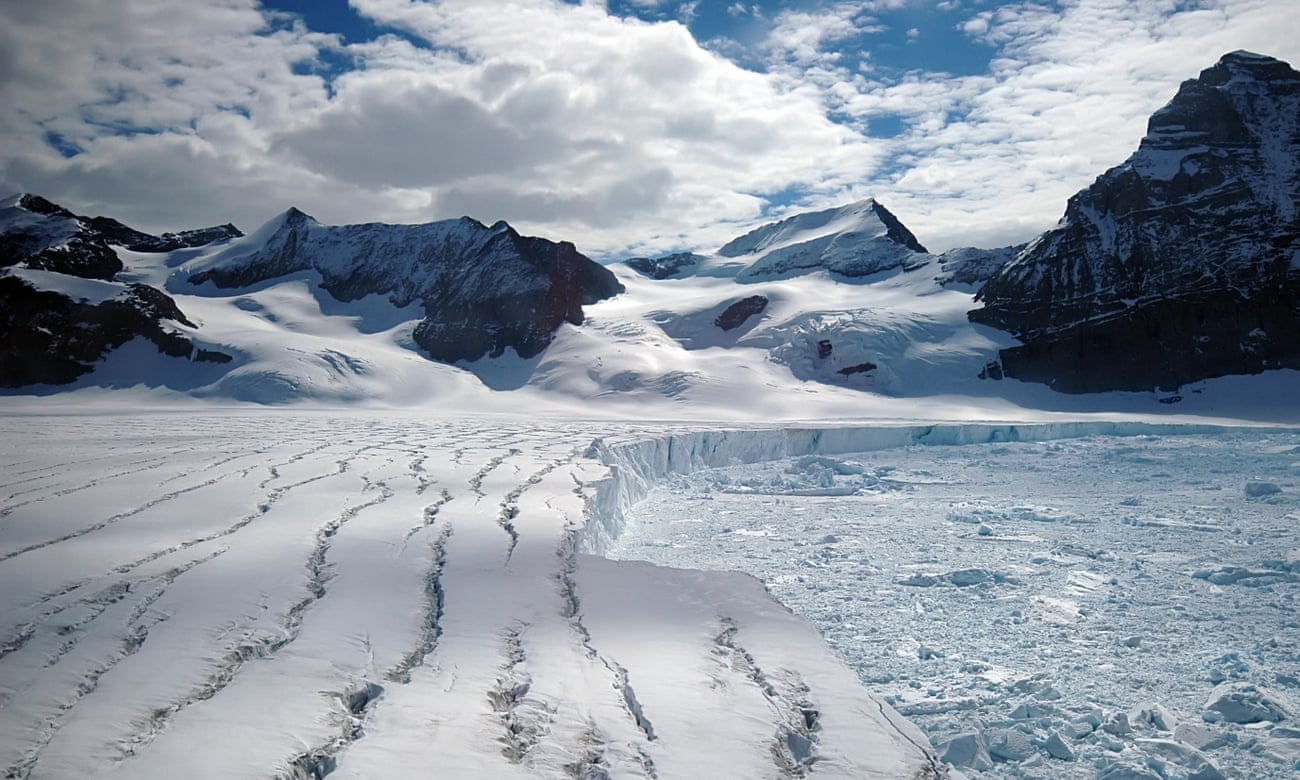 2023-03-05 'Everyone should be concerned': Antarctic sea ice reaches lowest levels ever recorded For 44 years, satellites have helped scientists track how much ice is floating on the ocean around Antarctica's 18,000km coastline. The continent's fringing waters witness a massive shift each year, with sea ice peaking at about 18m sq km each September before dropping to just above 2m sq km by February. But across those four decades of satellite observations, there has never been less ice around the continent than there was last week.

2023-03-04 The Dishonest Accounting of Net-Zero Emissions The press has too often given companies a free ride when it comes to their claims to be heading toward "net zero." Even the world's most prominent gathering of financial elites at the World Economic Forum — the ones who meet each year in the snowy ski chalets of Davos, Switzerland — cautioned against greenwashing by companies maneuvering for position in a suddenly climate-awakened world, and placed "net zero" at the top of their list of possibly misleading claims. Several regulatory agencies in this country and abroad have begun to watch for greenwashers far more closely than ever before in the context of false advertising.

2023-03-04 "It's almost like a cult." Activists shout down rural renewable energy projects Some of these protests appear to have ties to fossil fuel interests. A major player in the renewable energy opposition in rural Michigan is Kevon Martis, who works for E&E Legal, a D.C.-based lobbying firm that gets funding from the fossil fuel industry.

2023-03-04 10 of the best climate change documentaries to see in 2023 -"CommUnity" was the festival theme this year, a concept that came roaring to life throughout the nine film venues scattered across downtown Nevada City and Grass Valley, sister towns in the Sierra Nevada foothills. The film selections included a wide range of films focused on people with different backgrounds, and ASL interpreters stood alongside presenters on stage at several screenings.

2023-03-01 Environmental Justice and Climate Change Lately, I feel bombarded with report after report of environmental- and climate-related disasters. News about rising sea levels or deteriorating air quality is disparaging enough on its own, yet something even more sinister is lurking behind the destruction. Racial minority groups are disproportionately affected by environmental degradation, and this disparity is no coincidence; it is another example of how racial biases cause real-world inequity and injustice. This specific kind of injustice is so common it has its own term: environmental racism. Known as the "Father of Environmental Justice," Robert D. Bullard defines environmental racism as, "Any policy, practice or directive that differentially affects or disadvantages (where intended or unintended) individuals, groups or communities based on race." While not officially defined until the 1990s, this kind of discrimination has been happening for decades. In fact, the first documented environmental protest by a minority community happened in 1968, after a sewage treatment plant was forcibly placed in West Harlem.

2023-03-01 Youth Climate Anxiety: Can Talking About Climate Change at Home Make a Difference? More than two-thirds of adults in America have reported experiencing some form of anxiety around climate change, children and young adults are often the focus of conversation — and not without reason. The Washington Post recently reported the average 6-year-old will witness three times as many climate disasters as their grandparents, and seven times as many heat waves. That's a scary future to face for anyone, let alone an elementary schooler. It's no surprise then in 2021 84% of young people between 16-25 years were at least moderately worried about climate change, and 59% were very or extremely worried.

2023-02-28 Satellites observe speed-up of glaciers on the Antarctic peninsula Dr. Anna Hogg, associate professor in the Institute for Climate and Atmospheric Science at Leeds and an author of the paper, said, "The Antarctic peninsula has seen some of the most rapid warming of any region on Earth. Continuing work like this will help glaciologists monitor how quickly change is occurring, enabling accurate assessments of how Earth's ice will respond to climate change."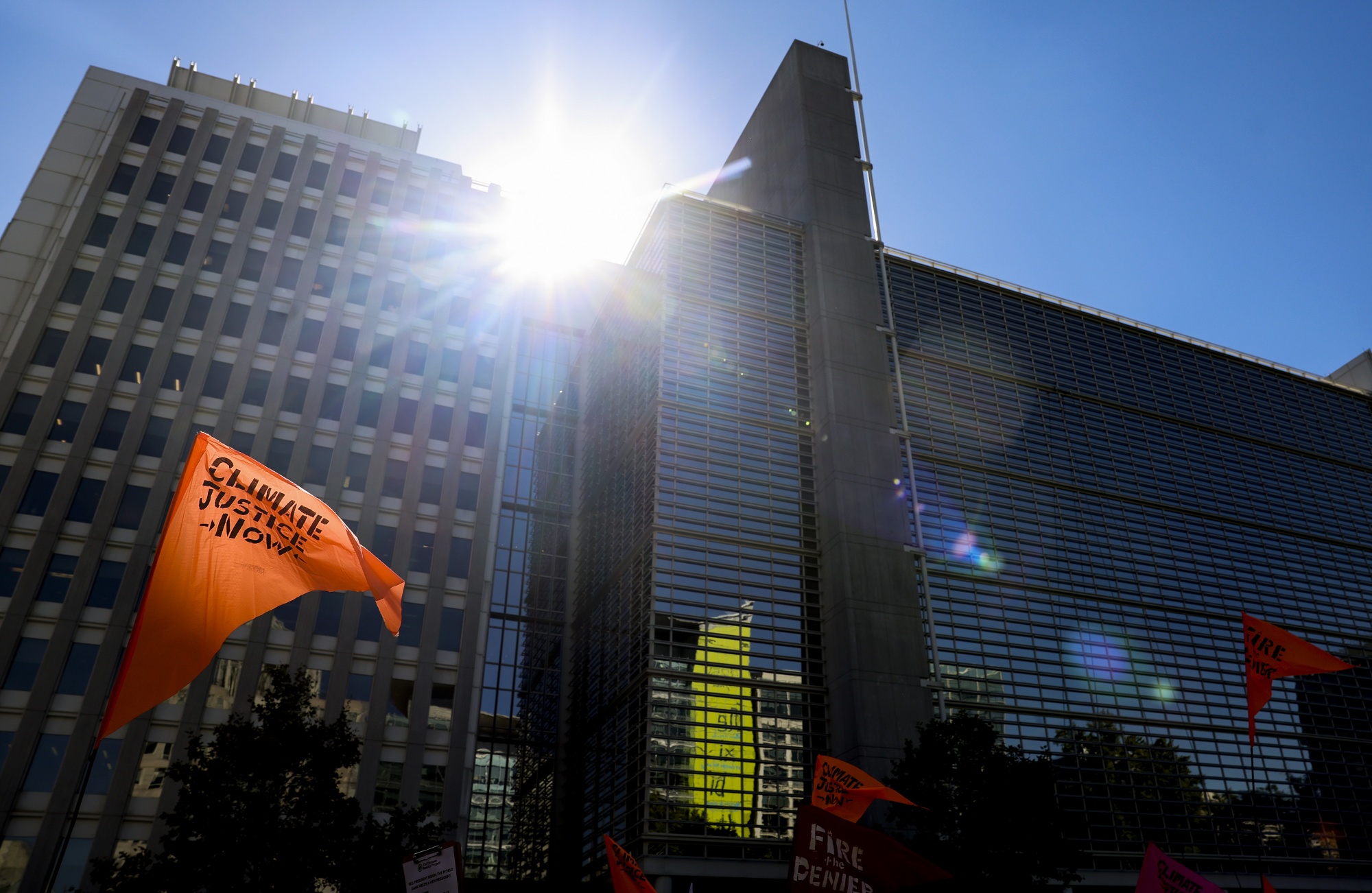 2023-02-23 The World Bank Must Take Bolder Action on Climate The heart of the World Bank's mission — reducing poverty and increasing economic development — is severely threatened by climate change. As warming intensifies and extreme weather worsens, the developing world will increasingly suffer the worst harms, making it more difficult for countries to meet their economic and social development goals. Putting access to clean, reliable and affordable energy at the center of its work is the only way the bank can fulfill its mission of supporting economic development and improving lives.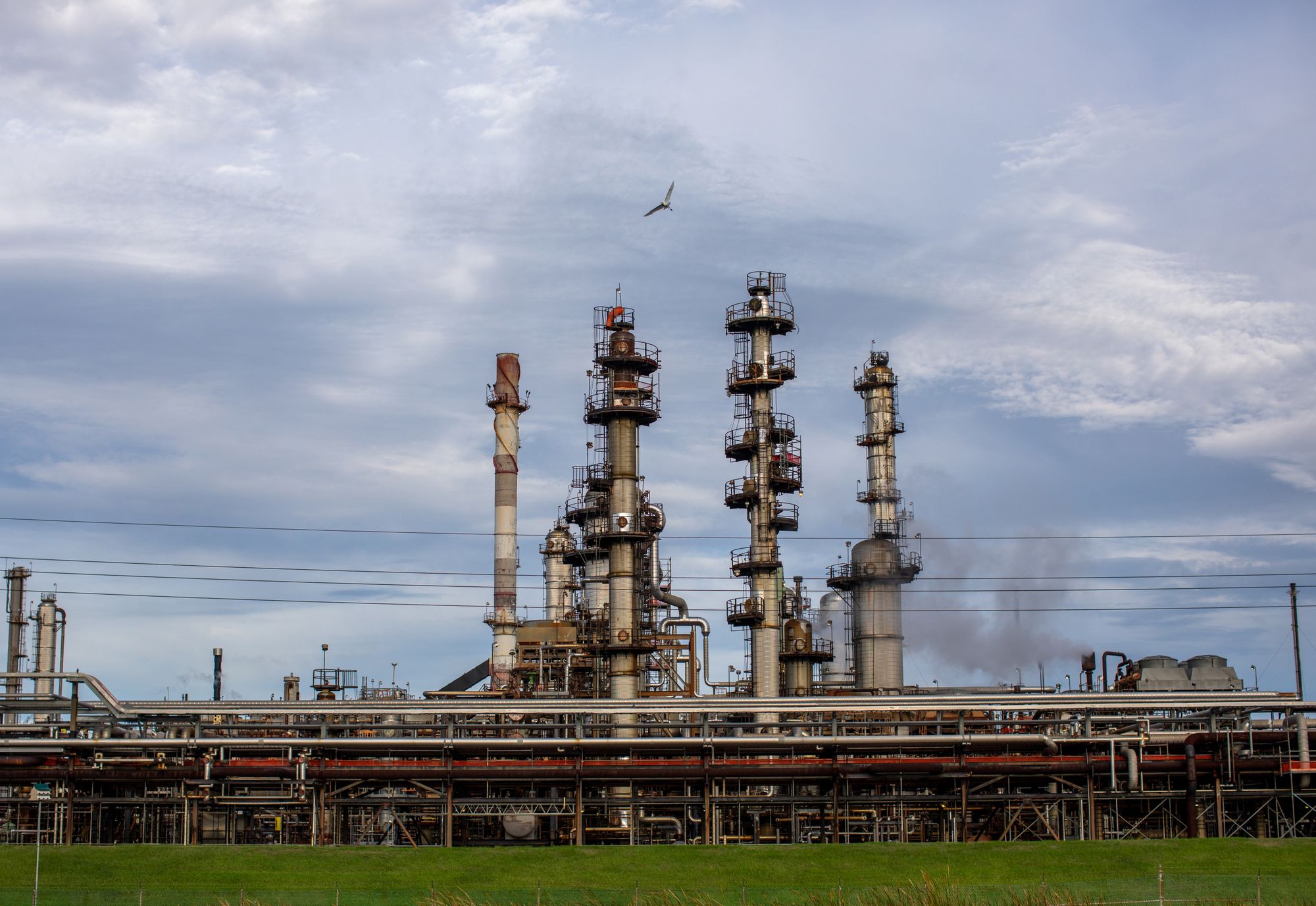 2023-02-23 This "Climate-Friendly" Fuel Comes With an Astronomical Cancer Risk The Environmental Protection Agency recently gave a Chevron refinery the green light to create fuel from discarded plastics as part of a "climate-friendly" initiative to boost alternatives to petroleum. But, according to agency records obtained by ProPublica and The Guardian, the production of one of the fuels could emit air pollution that is so toxic, 1 out of 4 people exposed to it over a lifetime could get cancer. "That kind of risk is obscene," said Linda Birnbaum, former head of the National Institute of Environmental Health Sciences. "You can't let that get out."

2023-02-20 Google Greenwashes a Dirty Partnership with Climate-Destroying Saudi Aramco A recent New York Times investigation into Aramco found the firm's eco-friendly initiatives are only part of a broader strategy to keep the planet addicted to Saudi fossil fuels for decades to come. The Times report noted that by reducing peripheral emissions, like methane leaks, Aramco gains the credibility needed to publicly pledge it will itself stop emitting greenhouse gases by 2050. All the while, the theory goes, the massive emissions caused by the continued global consumption of its chief products — oil and gas — will be ignored. "People would like us to give up on investment in hydrocarbons. But no," Aramco CEO Amin Nasser told the Times.

2023-02-18 Myth-buster: Why two degrees of global warming is worse than it sounds Let's say, for instance, that people manage to keep warming below 1.5 C/2.7 F. Today's young children could live to see nearly four times the number of extreme storms they see now, according to the Intergovernmental Panel on Climate Change research. And that's just with an additional 0.5 C of warming from where we are today. With 3 C/5.4 F of warming, however, today's kids would inherit a world with five times the likelihood of hurricanes and other severe storms.

2023-02-17 Biden Clears the Way for Alaska Oil Project The Biden administration on Wednesday took a crucial step toward approving a $8 billion ConocoPhillips oil drilling project on the National Petroleum Reserve in Alaska, drawing the anger of environmentalists who say the vast new fossil fuel development poses a dire threat to the climate.

2023-02-15 Acceleration of global sea level rise imminent past 1.8°C planetary warming, says study A study published in Nature Communications by an international team of scientists shows that an irreversible loss of the West Antarctic and Greenland ice sheets, and a corresponding rapid acceleration of sea level rise, may be imminent if global temperature change cannot be stabilized below 1.8°C, relative to the preindustrial levels.

2023-02-13 Tell Mondelēz: Respect Indigenous Rights Mondelēz, the proud maker of Cadbury and Oreos, say they respect Indigenous rights but they are buying palm oil from controversial companies like the Harita Group who is threatening to log the forests belonging to the Indigenous Long Isun community in Indonesia.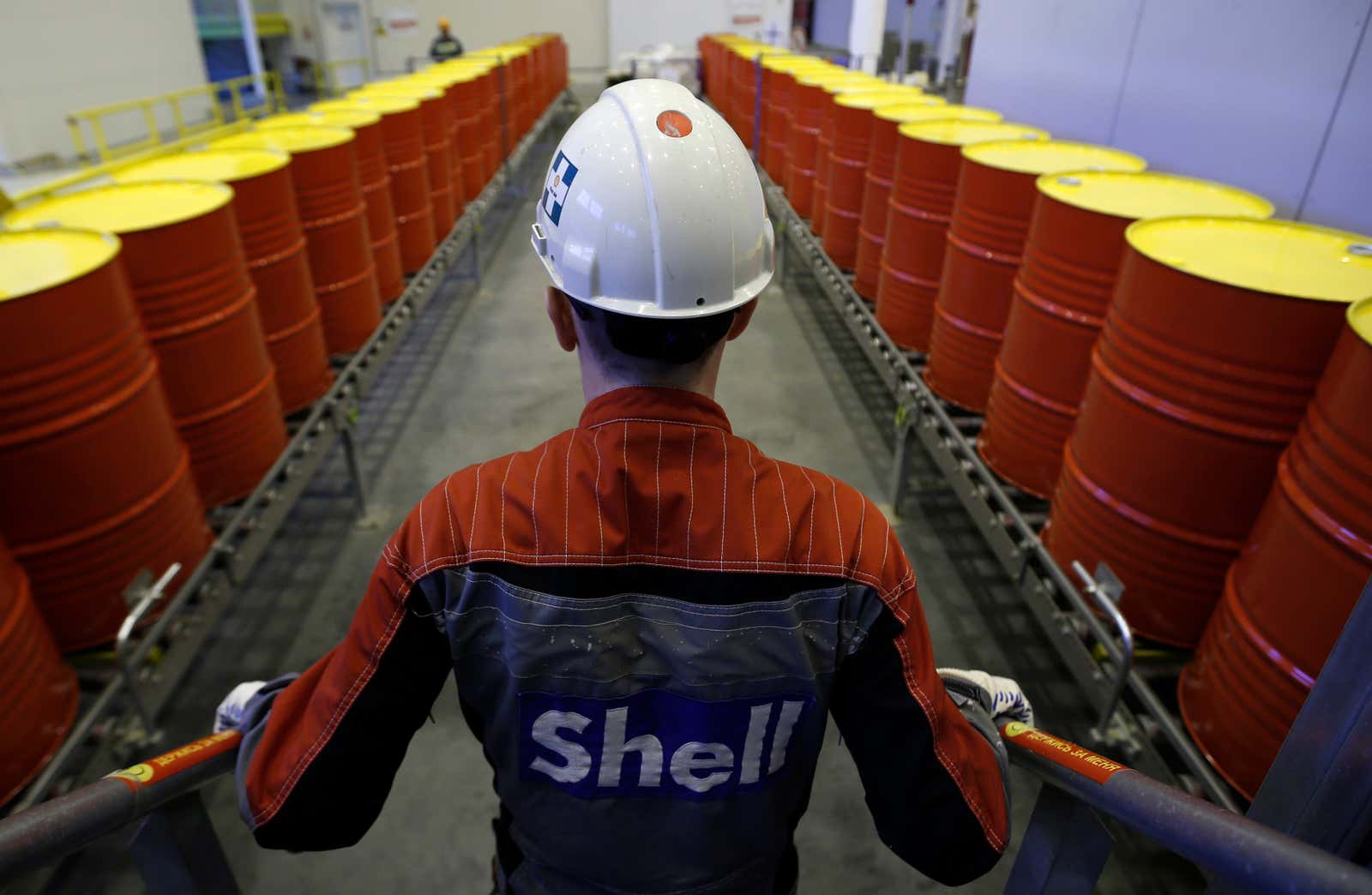 2023-02-10 Climate lawyers are suing Shell's directors personally over the oil giant's emissions Activists are finding all kinds of ways to pressure companies to act on climate change. The latest: In the UK, a group of climate lawyers is suing Shell's directors personally for putting the oil major at risk by refusing to make a better climate change adaptation plan.